Since exercise improves your health at every age, it's important to find the right pair of athletic shoes to help optimize your physical activity and well-being.

Once upon a time, you could lace up any pair of sneakers and bound out the door for a brisk jog. Rarely did you think about the construction of your shoe, its toe box, the sole's composition, or whether the shoe was neutral or stable.
But athletic shoes have come a long way. Knowing about your shoe and how it should fit and support your foot can help make your fitness activities a more positive experience.

Your health
The Centers for Disease Control and Prevention (CDC) confirms that adults of all ages, including older adults, benefit from routine exercise. In fact, it can help prevent the loss of strength, endurance, and energy. But by age 75, 1 in 3 men and 1 in 2 women don't take part in any kind of exercise.
Yet the benefits of staying active are plentiful. Exercise can lessen your risk of falling. It helps you maintain muscle mass and bone strength. It lowers your chances of dying from coronary heart disease. It may help keep your blood pressure at healthy levels. It can also ease the symptoms of depression and anxiety. When you work out, your body releases endorphins —hormones that improve your mood and sense of well-being. Put simply, staying active helps support your overall health.
Since exercise provides such a wide range of health benefits, it makes sense to be comfortable in the sport or fitness activities you pursue. Finding the best-fitting athletic shoe can help you stay active while giving you the safety and comfort you need.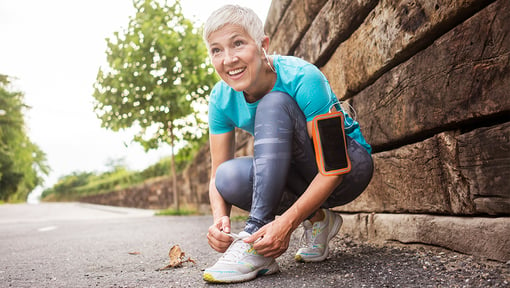 Your foot
As you age, your foot structure changes. In some cases, the inner arch in older adults starts to fall. Or they may develop a wider surface around the forefoot, ankle, and instep. Men experience changes in foot width, ball-of-the-foot girth, upper arch, and toe depth. Women and men both can develop flat feet. As a result, many older adults wear shoes that are not wide enough or are ill-fitting, which causes pain.
Regardless of the changes in your foot structure, there are superb-fitting athletic shoes for every foot.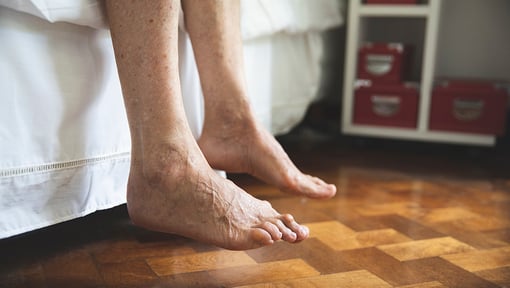 Before you go to the shoe store
According to some podiatrists, the most important aspect of your athletic shoe is comfort. The shoe should be comfortable, above all else. You should be offered all variations of shoes—neutral, stable, or cushioned—to see what feels best.
Here's where you can start:
Try on shoes at the end of the day. Your feet tend to be more swollen as the day goes on.


To get a proper fit, bring the type of sock you typically wear when working out.


Speaking of socks, choose them carefully. Cotton socks can slip and cause blisters. Socks made from a synthetic blend may provide less slippage.


If you have foot issues, like pain, be sure to talk with your doctor, a podiatrist, or a physical therapist. They can suggest exercises and foot inserts if appropriate.


If possible, purchase shoes from a specialty athletic shoe store. The staff are knowledgeable and can help you with the fitting.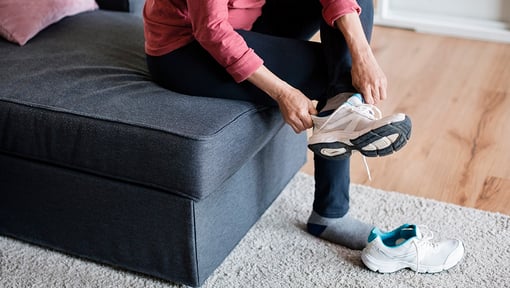 How to determine a good fit
While comfort is topmost, there are also some basic features to keep in mind when shopping for an athletic shoe:
Make sure that the front area of the shoe—the toe box—has ample room—from top to bottom, side to side, and lengthwise. Ensure that your toes aren't cramped. The rule of thumb is to leave a half-inch of room in front of your longest toe.


After relacing your shoes, be sure your foot can wiggle freely inside the shoe.


Look for something lightweight and breathable.


Try on both shoes to make sure that they both fit. Also, study the shoes on a level surface to make sure they are straight and even.


Make sure the shoes look fresh and haven't been sitting on the shelf for a long time. The cushioning could break down and become less effective. A thick layer of dust is a tell-tale sign the shoes have been on the shelf a long time. Or you might also ask the store staff.


Walk around the store on different surfaces (carpet and tile, for example) to make sure the shoes are comfortable.


Try on the kind of athletic shoes designed for your sport or type of exercise. There are many types of shoes: running, walking, court shoes, cross-trainers, hiking, and more. Each shoe may vary in its construction, but will provide support for the activity you are undertaking.
Keep in mind that a bad fit may lead to painful foot and joint problems, possibly slowing down your exercise progress. So, take your time when choosing shoes.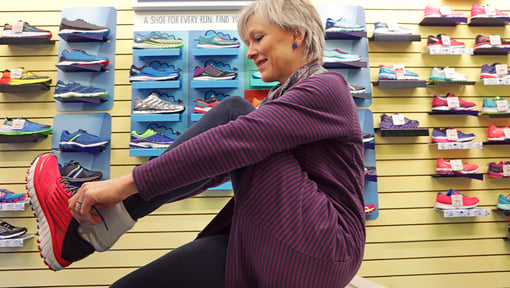 Athletic shoe construction
Finding the right athletic shoe can also mean a lesson in shoe construction. How do the different parts of the shoe stack up and what does that mean for your feet? Here is the basic make up of a shoe and how it impacts your foot:
The sole is composed of 3 layers. The middle layer, also called the mid-sole, provides cushioning and support and is made of shock-absorbing foam. The in-sole lies directly underfoot and bolsters the shoe with extra arch support. The bottom layer is made from carbon rubber. This adds to the longevity of the shoe.


The upper is just above the sole and is the body of the shoe. This includes the toe box and the heel counter at the rear. This should keep your heel from slipping.


The lacings and extra top eyelets. It's recommended your shoes have extra top eyelets, so when the lacings are tied, they provide ankle support.


Reflectors, for safety. Not all shoes have them, but they can be a useful safety feature, especially if you ever exercise after dark.


How your foot moves
When you visit a specialty shoe store, a store employee may measure and evaluate your foot and will likely check your gait.
For instance, if your feet roll inward as you walk, you might be told you overpronate. In that case, they may recommend you try a stabilizing shoe. But try on an array of shoes to test out the fit and feel, regardless.
Or your feet might land on the outside edge. In this case, you could be offered a cushioned athletic shoe that focuses on absorption.
The number of foot-placement variations can be mind boggling. Any assessment can point to the type of shoe that might be best for fit and support. But remember, try on many types of shoes, and pay attention to the comfort of your own feet.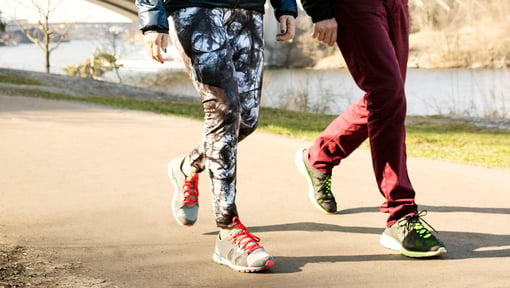 Take them on a test run
While comfort and fit are king, an effective way to see if a shoe is truly right for you is to take it out for a test run.
Walk around the store. Maybe even pick up the pace to a light jog. If possible, take them around the block or for a spin on the store treadmill if they have one.
You can even ask to purchase them with the caveat that you can return them. Many athletic shoe stores have a time-limited return policy. Test them out at the gym or wear them around the house. If they don't feel right, return them.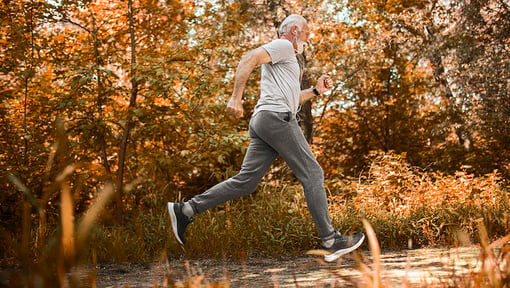 Foot problems & other issues
If you need additional arch support or have flat feet, inserts may help. Do you have hammertoes, bunions, or calluses? Look for a wider athletic shoe with a deep toe box.
If you suffer from nerve damage in your feet due to diabetes, find the best fitting shoe. Even minor irritations can quickly escalate.
To guard against falls and injury, make sure you purchase rubber soles with treads. They provide the best traction on most surfaces in wet and dry conditions.
Mindful that exercise bolsters your health—especially as you age—you now have a great excuse to go out and buy a new pair of athletic shoes. Quality shoes can optimize and enhance your workout experience. Use these recommendations to guide you as you pick out a comfortable and supportive athletic shoe. And although it's easy to get attached to a pair of shoes that fit like a dream, the truth is shoes don't last forever. So, make sure to replace them when they wear out and lose their support.

Not a Silver&Fit® member? Learn more about everything the program has to offer, including more helpful healthy living tips like this, here on our website.
This information is not intended to take the place of regular medical care or advice. Please check with your doctor before using this information or beginning any self-care program. Images used for this article do not depict any members of the Silver&Fit Program.
References
American Academy of Orthopedic Surgeons (n.d.). Athletic shoes. https://orthoinfo.aaos.org/en/staying-healthy/athletic-shoes/
American Podiatric Medical Association. (n.d.). Balance-boosting footwear tips for older people. https://www.apma.org/Patients/HealthyFeetTips.cfm?ItemNumber=10050
Buldt, A. K., & Menz, H. B. (2018). Incorrectly fitted footwear, foot pain and foot disorders: A systematic search and narrative review of the literature. Journal of Foot and Ankle Research, 11(1). https://doi.org/10.1186/s13047-018-0284-z
Centers for Disease Control and Prevention. (n.d.). Physical activity and health: A report of the surgeon general. https://www.cdc.gov/nccdphp/sgr/olderad.htm
Cleveland Clinic. (n.d.). Overpronation. https://my.clevelandclinic.org/health/diseases/22474-overpronation
Cleveland Clinic. (n.d.) Endorphins. https://my.clevelandclinic.org/health/body/23040-endorphins
Jellema, A. H., Huysmans, T., Hartholt, K., & van der Cammen, T. J. M. (2019). Shoe design for older adults: Evidence from a systematic review on the elements of optimal footwear. Maturitas, 127, 64–81. https://doi.org/10.1016/j.maturitas.2019.06.002
Kvas, S. (2023, January 18). Expert running shoe fit tips. Mayo Clinic Health System. https://www.mayoclinichealthsystem.org/hometown-health/speaking-of-health/expert-advice-on-finding-the-best-shoe-fit
Langhammer, B., Bergland, A., & Rydwik, E. (2018). The importance of physical activity exercise among older people. BioMed Research International, 2018, 1–3. https://doi.org/10.1155/2018/7856823
Long, A. (2015, October 15). Are you wearing the right shoes for your workout? American Council on Exercise. https://www.acefitness.org/resources/everyone/blog/5702/are-you-wearing-the-right-shoes-for-your-workout/
MedlinePlus. (2022, July 21). Aging changes in the bones - muscles - joints.
https://medlineplus.gov/ency/article/004015.htm
Tartaglione, J. (n.d.). How to select athletic shoes. American Orthopaedic Foot and Ankle Society. https://www.footcaremd.org/resources/how-to-help/how-to-select-athletic-shoes
The American Academy of Orthopaedic Surgeons. (n.d.). Athletic shoes. OrthoInfo. https://orthoinfo.aaos.org/en/staying-healthy/athletic-shoes/
The National Council on Aging. (2021, August 31). The life-changing benefits of exercise after 60. https://www.ncoa.org/article/the-life-changing-benefits-of-exercise-after-60
This article was written by Kimberley Reynolds, edited by Gail Olson, and clinically reviewed by Jaynie Bjornaraa PhD, MPH, PT, SCS, LAT, ATC, CSCS, CSPS.